POWER TUBES


6L6GC 5881 7581A

RCA

6L6GC Black Plate NOS matched pairs - OUT OF STOCK

RCA 6L6GC BLACKPLATES USED/TESTED MATCHED PAIRS - OUT OF STOCK
$150




GE NOS 6L6GC MATCHED PAIRS $125 - OUT OF STOCK


GE used/tested matched pairs $90
Tested & matched at full operating voltage in a Fender amplifier

SYLVANIA 6L6GC NOS MATCHED PAIR $125

6L6G USED/TESTED RCA,GE SYLVANIA $25

6L6GA NOS RCA,SYLVANIA $25


6L6GB NOS RCA,SYLVANIA $25


RCA 6L6 ( METAL ) 50 in stock $15 each matched pairs $25
1619 (metal 6L6 ) $20 each



TUNG SOL 5881
NOS MATCHED PAIRS $150 - OUT OF STOCK
ANOS MATCHED PAIRS $75






MATCHED PAIRS OF ANOS TUNG SOL 5881 IN STOCK.
SOME ARE LABELED GE, RCA, CBS & SYLVANIA.
Some were bulk packed and will be shipped in white boxes.


ALL ARE MANUFACTURED BY Tung Sol !
Real NOS TUNG SOL tubes made in Newark New Jersey USA.

TUNG SOL 5881 NOS Matched Pairs $150 - OUT OF STOCK
TUNG SOL 5881 used/tested matched pair $75
Tung Sol 5881 used/tested single tube $30



5881/6L6WGB GE,RCA (made by Sylvania) $25
5881/6L6WGB SYLVANIA/PHILLIPS Matched Pairs $65
5881/6L6WGB GE matched pairs ( Large bottle ) $75





5932 / 6L6WGA SYLVANIA

5932/6L6WGA Sylvania double round solid black plates
double D getter used/tested singles $30 matched pairs $65


Sylvania 5693/6L6WGA

Single black plate with 2 holes - double D getters
NOS matched pairs $75 singles $35

Single black plates with 2 holes - double D getters
used/tested singles $25 matched pairs $55


6146B NOS used in early version of Ampeg SVT amplifiers NOS $25





GE 6V6GTA NOS MATCHED PAIRS $65

Good supply in stock now
Matched production codes.
Just the thing for your Fender Deluxe or vintage Gibson Supro, or Silvertone amplifier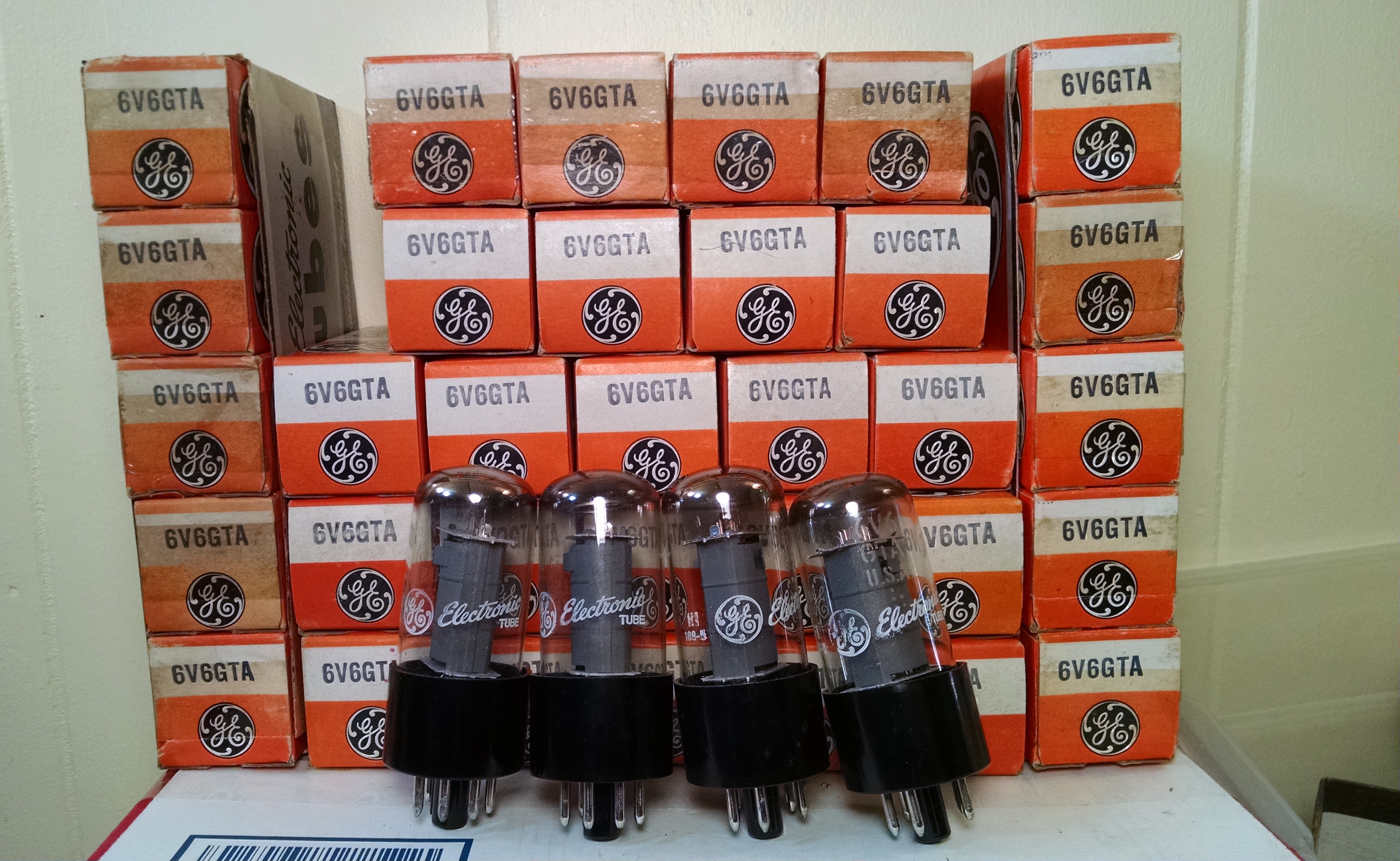 RCA 6V6GT SINGLES $45

RCA 6V6GT NOS MATCHED PAIRS (OUT OF STOCK) $85
RCA 6V6GT used/tested matched pairs $60
These have been tested,matched & checked for noise
in a Fender Deluxe Reverb at full operating voltage.
RCA 6V6GT used/tested single tube $25
Some are labeled Magnavox,NU and Bell & Howell
All are made by RCA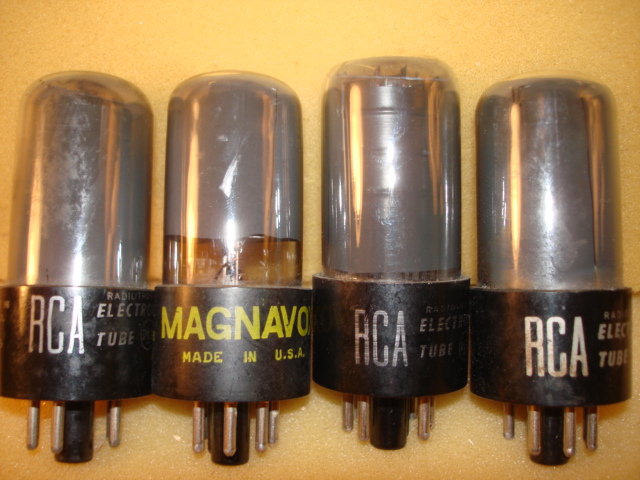 RCA 6V6GTA Matched Pairs NOS(clear glass gray plates) $70
6V6 (METAL) GE,RCA $15

6V6G used/tested $15 used/tested matched pairs $35
GE 6V6GT Matched Pairs clear glass gray plates matched date codes $65

SYLVANIA 6V6GTY Brown Base black plates Matched Pairs $65

6V6GTA GE,SYLVANIA $25ea,MATCHED PAIRS $65
6V6GT GE,BLACK PLATES CLEAR GLASS MATCHED PAIRS $70


TUNG-SOL 6V6GT NOS Black Plates $45 each.


7408/6V6GTA GE Two Matched Pairs $60 per pair


EL-34 6CA7 - OUT OF STOCK

EL-84 7189 7189A

EL-84/6BQ5 AMPEREX used/tested matched pairs $60



EL-84/6BQ5 MULLARD NOS Matched pairs OUT OF STOCK

MULLARD
6BQ5/EL-84 Used/Tested matched pairs $75
Two matched quads of used/tested Mullard 6BQ5 in stock
$150 per quad
RCA EL-84/6BQ5 NOS matched pairs $85 per pair


GE

6BQ5 NOS Matched Pairs $ 70 Matched Quad $125



EL-84/6BQ5 NOS GE,SYLVANIA $35 each
Matched pairs $70 Matched Quad $125
SYLVANIA BLACK PLATE 6BQ5 NOS matched quad $150

Sylvania 7199

7189A NOS GE MATCHED PAIR $85

SYLVANIA 7189 ( 6BQ5 rated for higher plate voltage )
BLACK PLATE MATCHED PAIRS $85 OUT OF STOCK

GE 6550A
Large Bottle used/tested matched pairs $75 - OUT OF STOCK -

GE 6550A used/tested singles $35
Some are labeled Magnavox and International
All are made by GE.

6973 $35 OUT OF STOCK


7591A NOS RCA,GE,SYLVANIA $ 60 each

NOS matched pairs $130


7591,7591A USED/TESTED $30 each
GE 7868 NOS matched pairs $100

6AQ5/6005 NOS GE,RCA,SYLVANIA $6
6BM8 / ECL82 MULLARD, AMPEREX $25
6BM8 / ECL82 various US brands $20

6BM8 Made in France $15

6GW8/ECL86 NOS AMPEREX & MULLARD (some labeled GE,RCA,) $30