PRE-AMP TUBES

RCA 12AX7

RCA NOS LONG BLACK PLATE 12AX7
OUT OF STOCK

12AX7/A RCA NOS 1960s production grey plates $60 OUT OF STOCK
ANOS 12AX7A RCA USED TESTED $25


12AX7 RCA NOS long gray plates $40 - OUT OF STOCK
12AX7 RCA used/tested long grey plates $30

12AX7 RCA Long Black Plate ANOS $40

7025 RCA used/tested ANOS $40 - OUT OF STOCK


ALL USED/TESTED TUBES ARE GUARANTEED
ALL USED TUBES ARE TESTED IN AN AMPLIFIER
AT FULL OPERATING VOLTAGES
THIS IS THE ONLY WAY TO TEST
FOR NOISE AND MICROPHONICS



THE TUBE SHOP DOES NOT SELL USED TUBES THAT TEST WEAK
OR THAT TEST AT MINIMUM VALUE FOR A "GOOD" TUBE.


IF YOU ARE NOT HAPPY WITH ANY USED/TESTED TUBE
IT MAY BE RETURNED WITHIN 90 DAYS.


MULLARD 12AX7



MULLARD 12AX7 ANOS
Used tested Mullard 12AX7 labeled Fisher GE
and other brands $45 each



TUNG SOL 12AX7 NOS $45 - OUT OF STOCK
These are original Tung Sol 12AX7 in
original boxes.
Not the reissue Tung Sol tubes made in Russia.


Tung Sol 12AX7 ANOS $20


Labeled National, Edicron, Westinghouse


NOS in original boxes $45
- OUT OF STOCK -


Used/Tested $35 - out of stock


GE NOS LONG PLATE 12AX7 NOS $45


GE used/tested ANOS Long Plate 12AX7
(these sound great in Fender amps) $20

GE used/tested ANOS 12AX7 & 12AX7A ( 1960s Gray Plates ) $ 20


GE used/tested 7025 $25






 RAYTHEON Long Black Plate 12AX7 Used/tested $25
These are labeled Shield and test around 42/48/32 on a calibrated TV-7D/U
a new 12AX7 will test around 55/55/32 or 60/60/32
The Shield labeled Raytheon Long blackplate 12AX7 test good
and have been checked for noise.
A great 12AX7 at a bargain price. They come with a 90 day warranty.


20 ANOS RAYTHEON LONG BLACK PLATE 12AX7 IN STOCK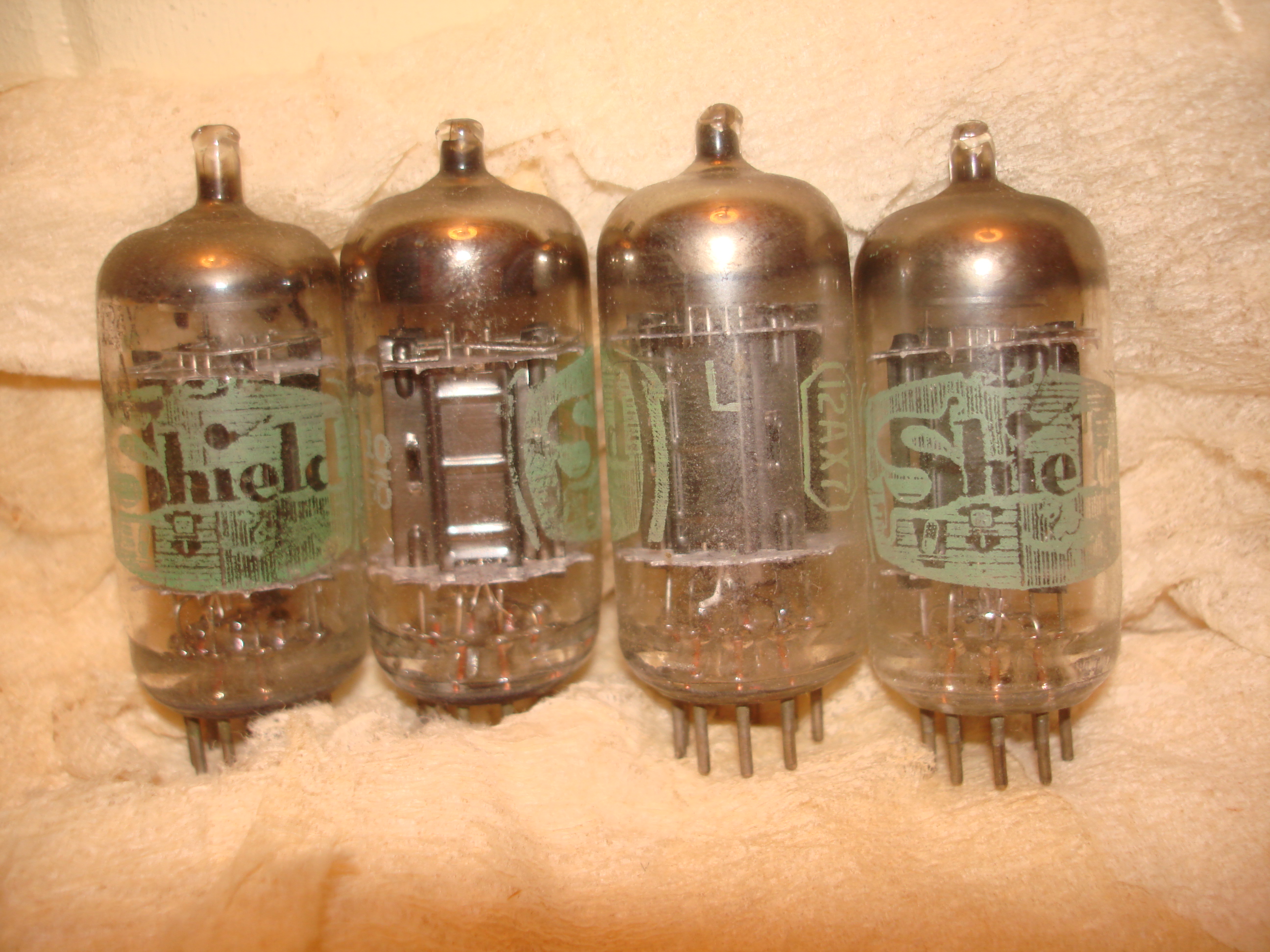 These tubes sound great in guitar amps and stereo gear

The word is out on Raytheon long black plate 12AX7.

They are now in high demand from audiophiles and guitar players.

These come and go very quickly.

Raytheon long gray plate 12AX7 used/tested $25

A very nice sounding tube for Fender amps

with an aggressive tone when overdriven


AMPEREX 12AX7



THESE ARE ORIGINAL AMPEREX TUBES NOT REISSUES

AMPEREX BUGLE BOY 12AX7 NOS - OUT OF STOCK -


AMPEREX BUGLE BOY 12AX7 used/tested nice looking Bugle
Boy logos $50


AMPEREX BUGLE BOY 12AX7 used/tested faded or mostly missing
Bugle Boy logos $45


AMPEREX long plate D getter used/tested 12AX7 $70


AMPEREX 12AX7 used/tested labeled Wurlitizer,
Eico, Fisher,Hewlett Packard,or faded Amperex logos $ 40


12AX7/ECC83....USED/TESTED.TELEFUNKEN RIB PLATE
Labeled Dyanco,Fisher or faded Telefunken logos $35


TELEFUNKEN USED/TESTED RIB PLATE 12AX7/ECC83
With good original Telefunken logos $45
With excellent original Telefunken logos $55


12AX7/ECC83.USED/TESTED TELEFUNKEN SMOOTHPLATE
labeled Dyanco,Fisher,or with faded Telefunken
logos $50

TELEFUNKEN used/tested 12AX7/ECC 83 Smoothplates.
Good original logos $ 60
Excellent original logos these look & test new
Photos and test results are available by email
$75 each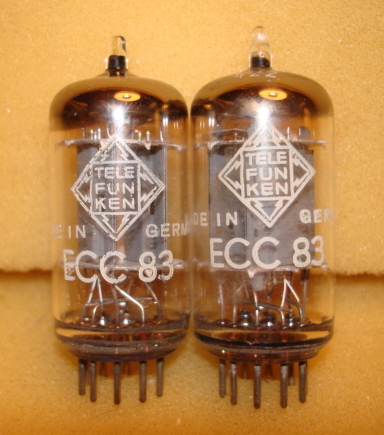 SYLVANIA 12AX7'50s Long blackplates OUT OF STOCK $45

SYLVANIA 12AX7A/WA 1960S &70S $40 - OUT OF STOCK

SYLVANIA 12AX7 Long Black Plates Used/tested $30
Like the Raytheon long black plate 12AX7, this is a very
rich and detailed sounding tube. Great for audio gear and guitar amps.

SYLVANIA 12AX7WA - OUT OF STOCK

These tubes were tested in a Fender Deluxe Reverb for noise.
If you have any trouble with them
they can be returned within
90 days of purchase
$20 each.


USED/TESTED 12AX7
All used/tested 12AX7 sold by THE TUBE SHOP are tested for noise
and microphonics.


Buying used/tested ( ANOS ) tubes is a good way to sample these
great and different sounding
vintage tubes at a reasonable price.
The easiest way to mod your amp is to try a different preamp tube.
All ANOS tubes test new or close to new.


You are going to get better sound and longer life
out of an older used tube than most of
the new tubes on the market nowadays.


GE NOS 5670 BLACK PLATES $15

5751


RCA 5751 triple mica blackplate used/tested $40


RCA 5751 NOS triple mica black plates OUT OF STOCK $60


RCA NOS Black Plate Double mica 5751 $50
RCA ANOS double mica black plate $30


GE TRIPLE MICA BLACK PLATE 5751
NOS ORIGINAL BOXES ... $60 each. OUT OF STOCK.

ANOS GE triple mica black plates $40


GE double mica blackplate 5751 NOS $35

GE 5 Star 5751 gray plate triple mica used/tested $30

GE 5 Star 5751 gray plate triple mica NOS $50


GE 5 Star 5751 grey plate double mica NOS $45


GE 5751 triple mica grey plates NOS $40
GE 5751 triple mica grey plates ANOS $30


GE 5751 double mica gray plates $25


GE triple mica grey plate 5751


NOS military surplus - shipped in white boxes
$30 each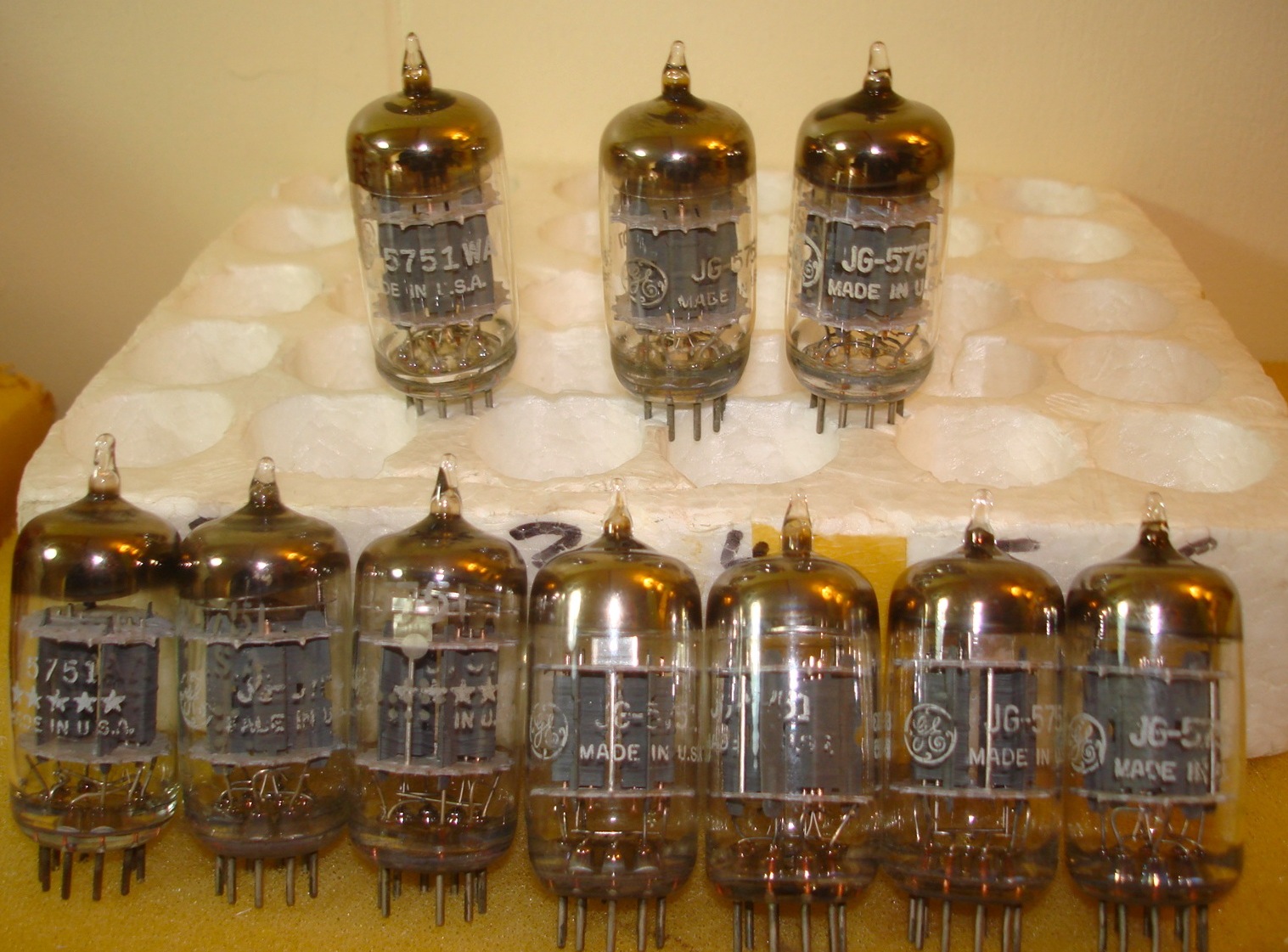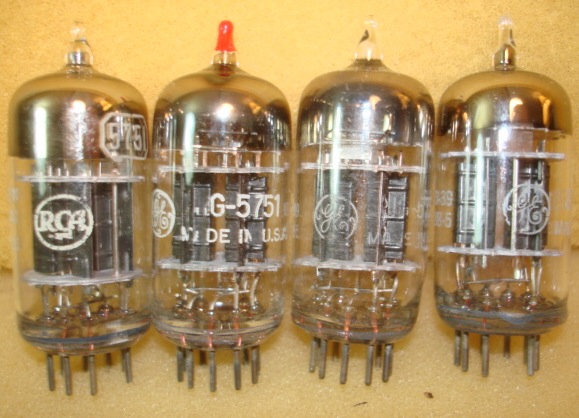 GE RCA SYLVANIA 5751 Triple Mica Black Plates
ANOS used/tested tubes $40
These sound great in high end stereo preamplifier
A deep and three dimensional sound-stage.

The Sylvania 5751 was recommended by
The Absolute Sound as the best tube for the
Triode Corporation TRX-1 preamplifier
issue 209 January 2012

Sylvania 5751 NOS $20
These were found bulk packed not in commercial boxes.
Matched production codes 7252
30 in stock shipped in white boxes.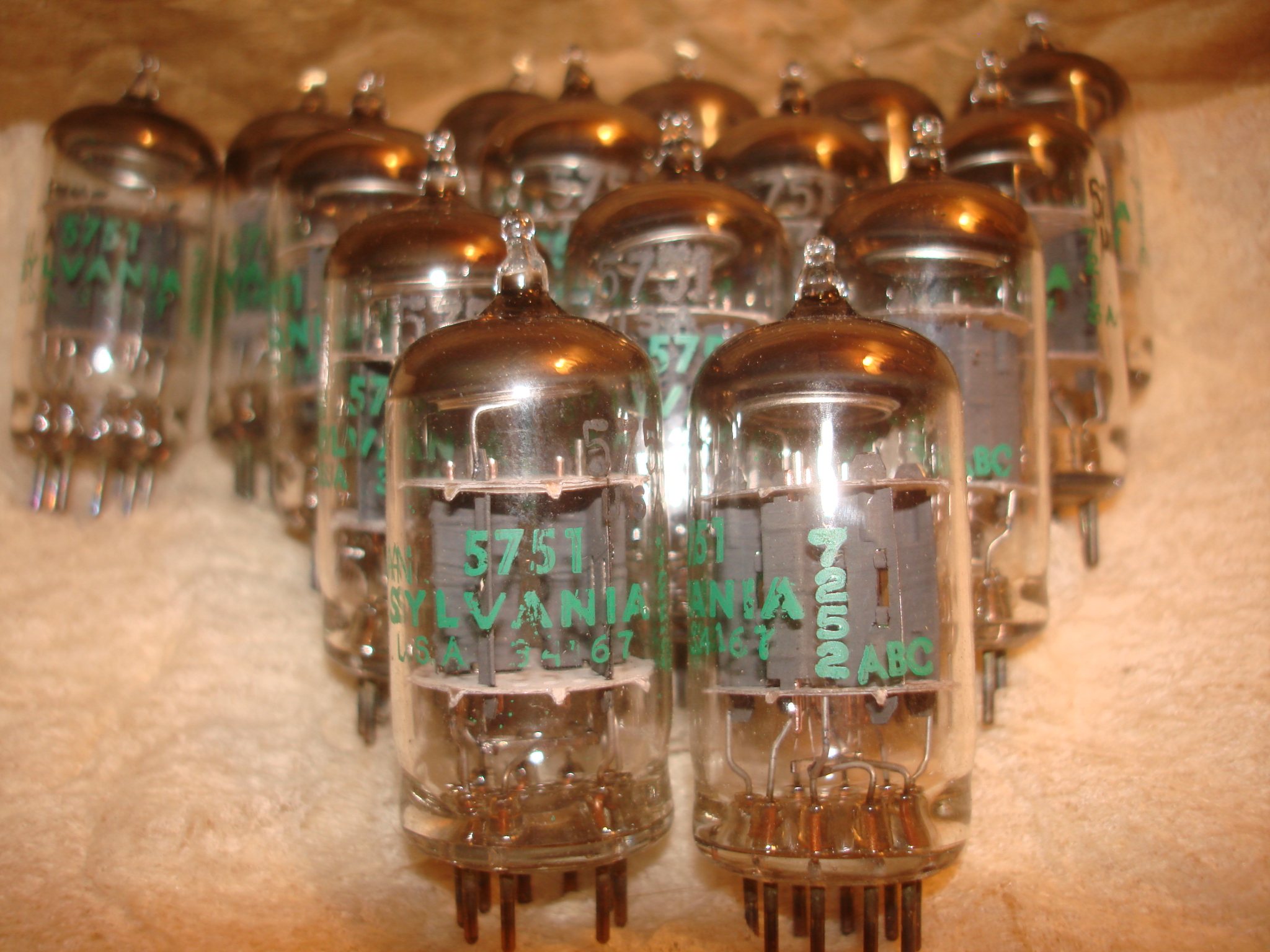 5751 SYLVANIA USED/TESTED standard gray plate $20

5751 TUNG-SOL ANOS long gray plate, "O" getter $20

5751 TUNG-SOL NOS Long grey plates $40



5840 TUBES - AS USED IN TELEFUNKEN MICROPHONES
NOS SYLVANIA 5840 $20 each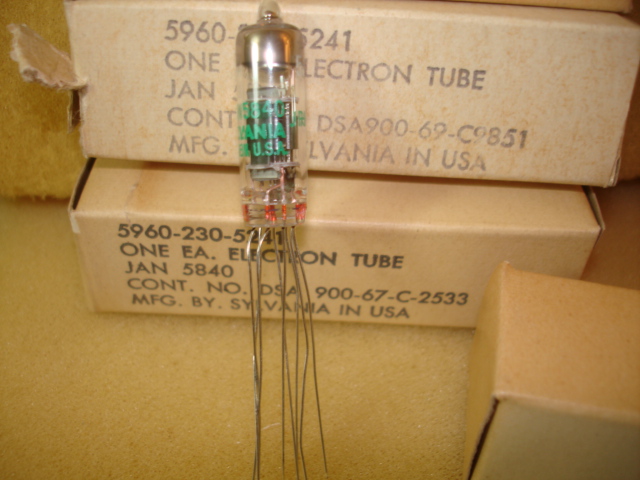 12AT7 ECC81 6201 6679

12AT7/6201 TUNG-SOL $20

MULLARD 12AT7 labeled Amperex $35
MULLARD 12AT7 Labeled GE NOS $40
MULLARD 12AT7 USED/TESTED $25


RAYTHEON 12AT7 black plates triple mica
$35 each OUT OF STOCK
RAYTHEON 12AT7 black plate triple mica
USED/TESTED $25 OUT OF STOCK



12AT7 RCA 1960s & 70s NOS $20
12AT7 RCA Black plates $30 - OUT OF STOCK
12AT7WA RCA COMMAND wide black plates OUT OF STOCK

6201/12AT7 GE FIVE STAR,double mica gray plates $25

6201/12AT7 GE 5 STAR triple mica gray plate $30
12AT7 NOS SYLVANIA wide black plates
( great sounding tube 10 in stock ) $25 each
12AT7 GE,SYLVANIA & OTHER BRANDS $20


12AT7/ECC81..TELEFUNKEN NOS $65

12AT7/ECC81..TELEFUNKEN used/tested ( nice logos) $40
12AT7/ECC81 TELEFUNKEN used/tested ( smudged logos ) $35
12AT7/ECC81 TELEFUNKEN ( re-branded or missing logos ) $30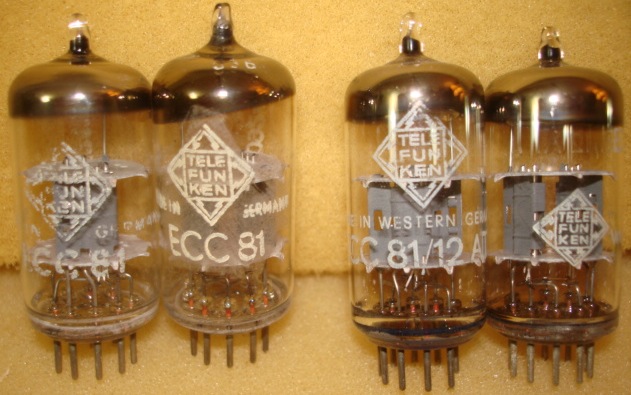 12AT7/ECC81,AMPEREX BUGLE BOY "D"GETTER $50
12AT7/ECC81..USED AMPEREX $25
6201..AMPEREX (SIEMENS-GERMANY) PQ GOLD PINS $75

12AU7 ECC-82 5814A

AMPEREX Bugle Boy 12AU7 used/tested 12AU7 nice logos $40 ea
Amperex 12AU7 used/tested orange print $30

AMPEREX 12AU7 Orange Print NOS $40 ea

12AU7 NOS RCA Clear Top-side getter - $25
12AU7 NOS RCA long black plates 1950s $25
12AU7 GE,SYLVANIA,RCA $15

12AU7 RAYTHEON & SYLVANIA Long Black Plate Used/tested $10

TUNG-SOL long plate 12AU7 NOS $25

12AU7/ECC82 TELEFUNKEN NOS $65
12AU7/ECC82 TELEFUNKEN USED/TESTED RIB PLATE.
These have nice looking original logos $30
12AU7/ECC82 TELEFUNKEN USED/TESTED SMOOTHPLATE
Good looking original logos $40
NOS 12AU7/ECC82 MULLARD $40
ANOS MULLARD 12AU7 $25


12AY7 6072
12AY7 RCA,GE,SYLVANIA,1960s & 70s GRAY PLATES $25
12AY7 GE 1950s GRAY PLATES $30

6072 RCA DOUBLE MICA GRAY PLATES 1960s $30

6072 GE TRIPLE MICA BLACK PLATES
ANOS = USED/TEST NEW
These have been tested for noise, all test new $40
Six in stock


6072 GE DOUBLE MICA BLACK PLATES NOS $45

6072 GE DOUBLE MICA BLACK PLATES ANOS $35


12AZ7 RCA $20


12BH7


12BH7/A..RCA,GE,SYLVANIA Grey Plates $20

12BH7/A RCA BLACKPLATES USED/TESTED OUT OF STOCK


RCA BLACKPLATE 12BH7 NOS OUT OF STOCK
These are getting to be VERY hard to find !



12BY7/A RCA $15
12BY7/A..GE,SYLVANIA,RAYTHEON $10


12DW7/7247 NOS RCA,GE,SYLVANIA $25 OUT OF STOCK

12DW7 NOS Matsushita / Mullard
Three in stock $20 each.


12DW7/7247 MULLARD/AMPEREX/TELEFUNKEN
USED/TESTED $20 - OUT OF STOCK



6C4 NOS RCA,GE,SYLVANIA $5

6C10, GE,RCA, SYLVANIA OUT OF STOCK $35



6DJ8 - 6922 - 7308


NOS AMPEREX BUGLE BOY 6DJ8 $45

ANOS 6DJ8 used/tested


AMPEREX

Bugle Boy $25

AMPEREX NOS 6DJ8 white print early 60s $35



AMPEREX 6DJ8 labeled HEWLETT PACKARD
"A" frame getters, silver pins
3 pairs with matching date & production codes.
$65 per pair


6DJ8 AMPEREX (Gold pin,Orange globe,US) $40

6DJ8 AMPEREX
(Holland, Orange print, PQ,silver pin,A frame) $35

6DJ8 ...AMPEREX
(ORANGE GLOBE, HOLLAND) $40

US made 6DJ8 RCA,GE,SYLVANIA $15



AMPEREX 6922
NOS AMPEREX 6922
Gold Pins USA $70 each
Two in stock one is labeled RCA.





6GK5 NOS RCA GE SYLVANIA $10
As used in Conrad Johnson preamplifiers


6K6GT RCA,GE,SYLVANIA $15
6K11 GE, used in Ampeg amplifiers $35

6T8/EABC80 TELEFUNKEN .. 30 in stock ! $15
These are new tubes that were
bulk packed,they will be shipped in white boxes

6084/E80F AMPEREX ( USA,GOLD PIN,PQ) $40
6084/E80F TELEFUNKEN (non diamond,Siemens) $40


7119 AMPEREX (PQ) OUT OF STOCK $20

7247/12DW7 - OUT OF STOCK


7788/E810F PHILLIPS (Holland,SQ,gold pins) $40
7788/E810F AMPEREX (PQ,"U"getter,gold pin) $45





EF-86/6267


AMPEREX NOS Mesh Plate $40
These are boxed and labeled Mullard and Sylvania - made in Holland.


EF-86/6267 SONOTONE Mesh Plates (Siemens) $30


MULLARD EF-86 NOS Mesh plate OUT OF STOCK

MULLARD EF-86 Mesh plate used/tested $20



EF-86 / 6367 GE Mesh Plates (Made in England) $40

EF-86/6267 used/tested AMPEREX Mesh Plate (these test new)
$ 20 each

6AN8A RCA,TUNG-SOL $10, GE,SYLVANIA, $8


6FQ7/6CG7


6CG7 RCA BLACKPLATES $30
6CG7 RCA GREYPLATES $20


6CG7 CBS BLACKPLATES $20
6CG7 GE GREYPLATES $15


6CG7/6FQ7 RCA (Clear top-side getter) $25

6CG7/6FQ7 RCA BLACKPLATES $25
6CG7/6FQ7 RCA $15

6FQ7/6CG7 GE,SYLVANIA GREYPLATE $15
6FQ7/6CG7 CBS BLACKPLATES $20



6EU7



USED IN VINTAGE GIBSON GUITAR AMPLIFIERS


6EU7..NOS RCA,GE,SYLVANIA,TUNG SOL $25

6EU7 used/tested Mullard $20



6J5...RCA,GE,SYLVANIA $10

6J7.RCA GE,SYLVANIA $10

6N7 (METAL) RCA,GE,SYLVANIA $10

6N7GT RCA $15

6SC7 RCA $20 GE,SYLVANIA $15
6SJ7 RCA $15 GE, Sylvania $10
6SJ7GT RCA, Sylvania $20
5693 (6SJ7) RCA REDS $20

6SK7 Sylvania,GE,RCA $5


6SL7GT/GTB/GTA 5691


6SL7GT RCA,TUNG-SOL $30
6SL7GT GE,SYLVANIA $20
6SL7GTA/B SYLVANIA,GE,RCA $25
6SL7WGT SYLVANIA $25


6SQ7 RCA $10 GE,SYLVANIA $8

6U8 RCA,GE,SYLVANIA $8

5691/6SL7 RCA RED BASE, BLACK PLATES NOS - OUT OF STOCK
5691/ 6SL7 RCA RED BASE USED/TESTED - OUT OF STOCK



6SN7GTB

NOS RCA BLACK PLATES 6SN7GTB $25
NOS RCA 6SN7 GT $30


NOS SYLVANIA 6SN7 GTB $25

TUNG SOL NOS ( Original Tung Sol ) 6SN7GTB $25


GE 6SN7GTB SIDE GETTER $15



12SN7 GTB Westinghouse, GE,RCA $10




5879 RCA,GE,SYLVANIA $10

7199 NOS RCA,GE,SYLVANIA $35
7199 ANOS USED/TESTED VARIOUS BRANDS $25